Amidst the fast-paced lifestyle and the city bustle of Namma Bengaluru, it could often be way too hard to skim out an elaborate weekend tour plan to your favorite destinations. Yet, the mind craves in the least for an overnight getaway in a tent under the open night sky to enjoy the moonlight and behold the stars far and high. Are you in search of ideal destinations for quick camping? We've got you covered. Here are the 7 best places for camping near Banglore where you can sojourn with your dear ones giving a pause to the routine robo-life while relaxing and rejuvenating by tuning in with the tranquillity of mother nature.
Cast out boredom with these 7 best places for camping near Bengaluru
Let us trace them by their distance from India's Silicon Valley, starting with the nearest.
1. Camp GeeDee
Situated next to the famous Bannerghatta Wildlife Sanctuary, Camp GeeDee is the perfect spot for an adventurous camping experience. Spanning about 65acres, it offers you and your gang a choice of activities to go camping with such as rock climbing, mountain biking, trekking, and bird spotting apart from tenting up and setting up a campfire.
Distance: 35 km from Bangalore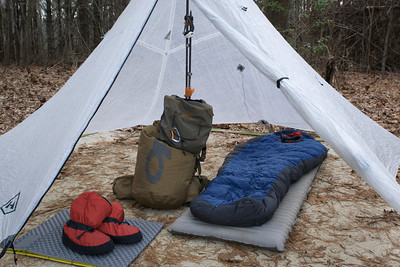 2. Manchinbele Reservoir
The Manchibele Dam that was built across the Arkavati River for irrigating Magadi town remains the major water source for the locality. The reservoir provides an ideal camping spot to dissolve into the lap of nature with its chill mornings, serenity, and picturesque view. As part of camping, one could try rope courses, paintball, and water sports such as rafting, kayaking, swimming, and canoeing to add to the thrill.
Distance: 40 km from Bangalore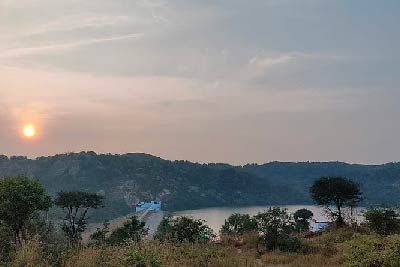 3. Ramanagara
Known as the Silk City, Ramanagara is famous for its sericulture. Besides, one could quickly recollect the village that was shown in the 70s Bollywood hit Sholay. Ramanagara is an ideal rock-climbing spot for adventure lovers, thanks to its rugged terrain and giant rocks that pose a tough test for their resilience and fitness. The campsite spans 55 acres of land and lets you do a lot more while camping – trekking, rock-climbing, zip-lining, rappelling, kayaking, canoeing, paddle boating, etc.
Distance: 50 km from Bangalore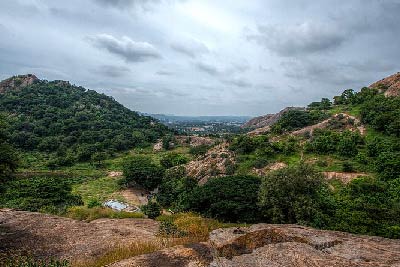 4. Savandurga
The largest monolithic hill in Asia, Savandurga is located to the West of Bengaluru close to the Arkavathi river at an elevation of 1226 meters above sea level and is part of the Deccan plateau. With a historical significance dating back to the time of the Hoysala empire, the Savandurga fort was built in 1543 by the then-ruler Samanta Raya. Savandurga consists of two hills Billigudda and Karigudda. Cave explorers and rock climbers cannot miss the visit to the venerated pilgrim centers – the Savandi Veerabhadreshwara Swamy temple and the Narasimha Swamy temple located at the foothills. The site prides itself as one of the choicest camping locations with its patches of rocks and boulders by offering numerous adventure options including trekking, rappelling, rock-climbing, rope courses, kayaking, zipline,etc. The surroundings filled with rich flora and fauna including the dense Savanna shrubs make the location a perfect spot for one to unwind and blend with nature.
Distance: 50km from Bangalore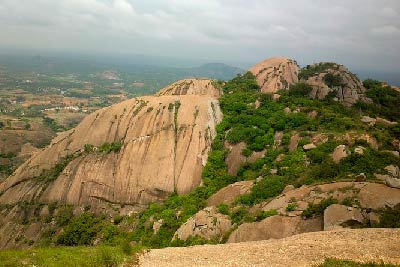 5. Makalidurga
Situated about 15 kilometers from Doddaballapur town, Makalidurga hill rises to 1350 meters above sea level. With the railway station at its base, it offers a rare trekking experience that could begin right along the railway tracks amidst the breathtaking hill view loaded with lush greenery, cloudy ambiance, and rugged terrain. Makalidurga is one of the closest trekking and camping spots near Bangalore. It is studded with elements of history and legend, such as the ancient fort at its top which is believed to have been used as a granary by the ruler named Makaliraya in the late 1800s, and the hill is also believed to be the spot where the sage Markandeya Rishi performed penance. Makalidurga is an all-season trekking and camping destination for both beginners and experts. With large boulders, granite mounds, the flora and the nearby lake, the site opens up numerous options for a fun-filled camp time including rappelling, rock-climbing, trekking, treasure hunt games etc.
Distance: 60 km from Bangalore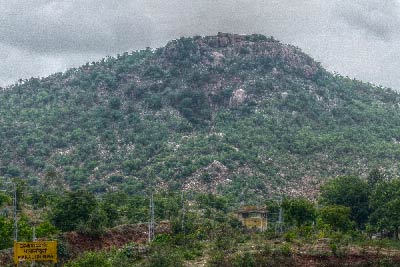 6. Bananthimari Betta
Situated about 3 kilometers from Kanakpura, Bananthimari Betta, also known as Maribetta or Karadibetta, is a monolith twin hillock with lush greenery surrounding it. It owes its name to a temple situated at the base of its peak, with "Bananthi" meaning a mother who nurses a newborn infant and "mari" meaning the violent form of Goddess. With the highest peak rising to 2090 feet, Bananthimari betta serves as a perfect camping spot with the temple, pond, and streams and a spectacular view of the paddy field and town from atop. It also offers an ideal site for adventures such as trekking, rappelling, treasure hunt and boating.
Distance: 67 km from Bangalore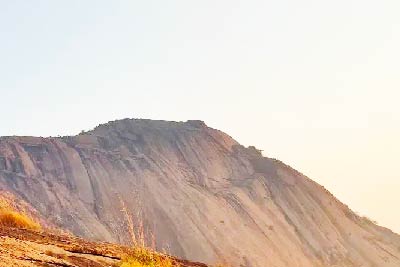 7. Antaragange
With the name that means "the Ganges from the depths", Antaragange is another popular trekker's delight situated in the Kolar district. It is a rare location that provides opportunities for trekking, camping, hiking and cave exploration. One can set up the camp outside the caves to witness a magnificent daybreak. Antaragange is renowned for the Sri Kashi Vishweshwara temple which is regarded as the Kashi of the South, a temple dedicated to Lord Shiva. The temple pond receives a continuous stream of water flowing from the mouth of a stone bull, Basava, and is believed to heal one from illnesses upon drinking from it. The mountain consists of granite rocks and umpteen number of caves at about 3 to 4 kilometers from the temple. A night outside the caves with bonfires, stargazing and DJs is often an integral part of the camp itinerary.
Distance: 70 km from Bangalore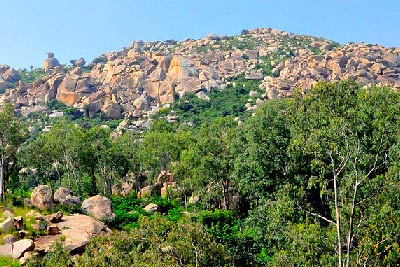 Other popular camping destinations
Devarayanadurga
Rising high to an elevation of 1204 meters above sea level, it houses ancient temples that date back to the Chola empire. With the renowned Bhoga Narasimha temple at its foothills and Yoga Narasimha temple at the top, the place also houses a natural spring at Namada Chilume. The Siddara Betta hill serves as a delight for the rock-climbers and trekkers. The rocky terrain with caves makes it yet another preferred camping spot at about 72 kilometers from Bengaluru.
Bheemeshwari
Located about 100 kilometers from Bengaluru, on the banks of the Cauvery river, Bheemeshwari offers a paradise for avid nature lovers with its diverse flora and fauna. It houses a variety of wild animals including elephants, spotted deer, wild pigs, giant squirrels, jackals, leopards, etc. Bheemeshwari is an ideal location for camping, mountain biking, jungle safari as well as water sports such as rafting. One can also go fishing and save the catch to cook at the bonfire.
Final words
As you go topsy turvy managing the crazy work-life schedules, worrying about the stock market, struggling to keep your family happy, planning-postponing and re-planning a long holiday to Maldives or Manali, try packing your bag for a quick camp for a guaranteed recharge and upliftment. With these 7 best places for camping near Bangalore, you never fall short of options to do a swift factory reset for your body, mind, and spirit from the hectic lifestyle at the Space city of India.
Written by: Rajani RP