With modern equipment, excellent geographical and cultural terrain, and easy access to bustling rivers, India is considered one of the top river rafting destinations worldwide.
Depending on the difficulty level, you can opt for the top river rafting destinations in India. Grade I is the primary level, Grade II and III are intermediate, and Grade IV is highly challenging.
So, there are various places in India where you can enjoy your passion and love for rafting. Every location is cherished for its natural grace; therefore, rafting among them would be an adventure worth bearing.
Here is the list of top river rafting destinations in India to indulge with your other adrenaline junkies.
1. Indus River, Ladakh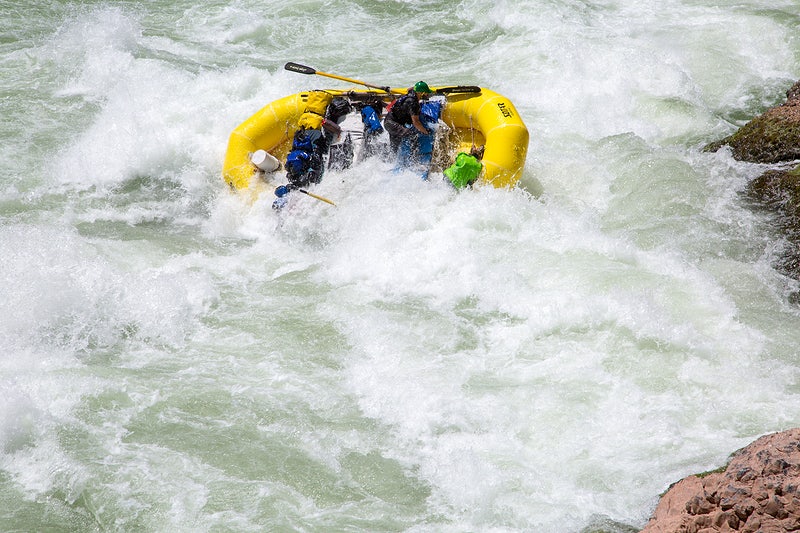 Nothing can be more daredevil than rafting on the Indus river. Many people even cite Indus as 'Singhe Khababs' or 'Out of the Lion's Mouth,' as the river has multiple rafting points.
The beautiful land of Ladakh carries many wonders for visitors. Engage in this exciting pleasurable sport amid the snow-tipped mountains, hillside villages, deep gorges, and hilltop monasteries.
Indus is Asia's longest river and stretches around 3,180 km. It starts in Tibet and flows around the cold desert terrain of Ladakh.
Indus holds several rafting locations: Phey to Indus Zanskar confluence at Nimo, Upshi to Kharu, Upshi to Nimo, and Phey to Nimo. The rafting period here usually starts in July and ends in September.
You can enjoy rafting in the Zanskar-Indus River even if you are a beginner and don't have any prior experience with rafting.
Type of difficulty: Grade I Rapids – Elementary
Distance Covered: Around 25 km
Best Period for rafting:  July to September
2. River Ganga, Rishikesh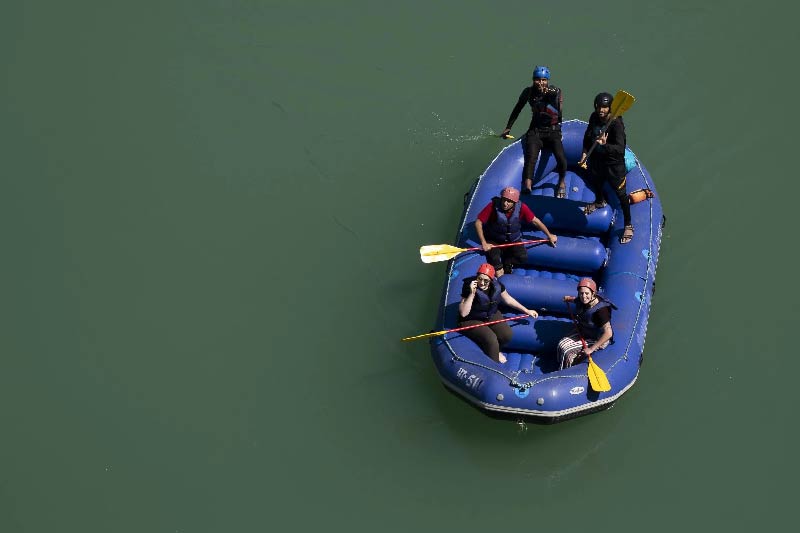 The River Ganga is among India's most preferred destinations for river rafting. Indeed, River Ganga is the finest location to raft. The Ganges, Rishikesh, found in Uttrakhand's Garhwal Himalaya, also has several other activities to enjoy!
Here, you can choose the place for water rafting as per your preferred difficulty level. There is a 16 km long expanse in Rishikesh that carries you from Shivpuri to Lakshman Jhula.
Amid this stretch, you will encounter rapids from Grade I to IV. It is one space loaded with rapids and whirlpools and has been enjoyed by well-known celebrities like Brad Pitt.
It has 13 rapids, a few of which have weird names such as Tee Off and Golf Course, Three Blind Mice, Double Trouble, Return To Sender, Roller Coaster, etc.
Some other stretches are Mandakini's 26 km stretch (higher grades), 12 km long stretch from Dharasu to Chham, 12 km long stretch from Matli to Dunda (all grades), Harsil to Uttarkashi (all grades), and a 20 km stretch from Jangla to Jhala (all grades).
Type of Difficulty: Grade I to Grade IV
Best Period for Rafting: September to June
Distance Covered: Around 15 to 35 km
3. Dandeli, Karnataka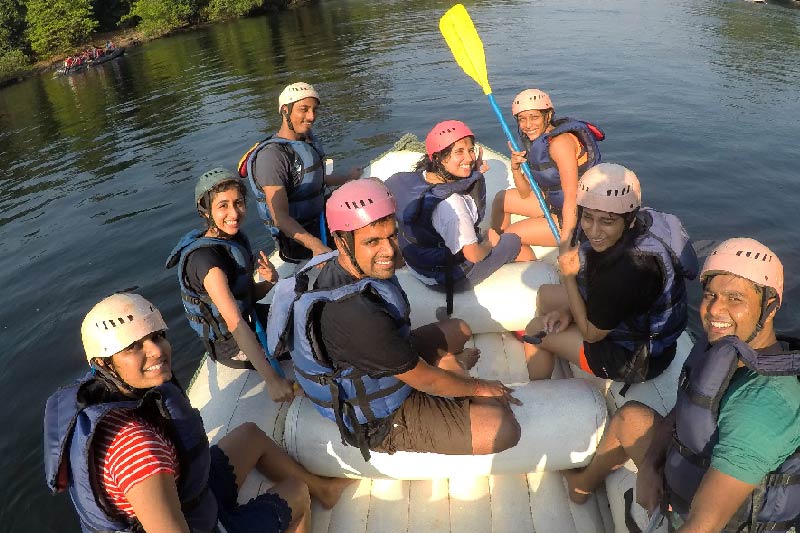 The adventure and pleasure of white water rafting are not only confined to Northern India. Dandeli, in Karnataka, provides exceptional rafting ventures and is indeed one of India's top river rafting destinations.
Water rafting in Dandeli is a more recent sensation but just as thrilling and entertaining as the others on the list. It provides a winding course along the Western Ghats on the rapidly rushing Kali river.
The river Kali in Dandeli creates one of the most suitable locations for rafting for novices and experts. The 12 Kilometers stretch includes grade II and grade III rapids.
It flows at an altitude of around 1550 ft and offers a thrilling ride downstream amid fantastic flora and fauna. The most excellent time to do this activity here is from November to June.
Type of Difficulty:  Grade II – Grade III – moderate
Best Period for Rafting: November to June
Distance Covered: 12 km
4. Teesta River, Sikkim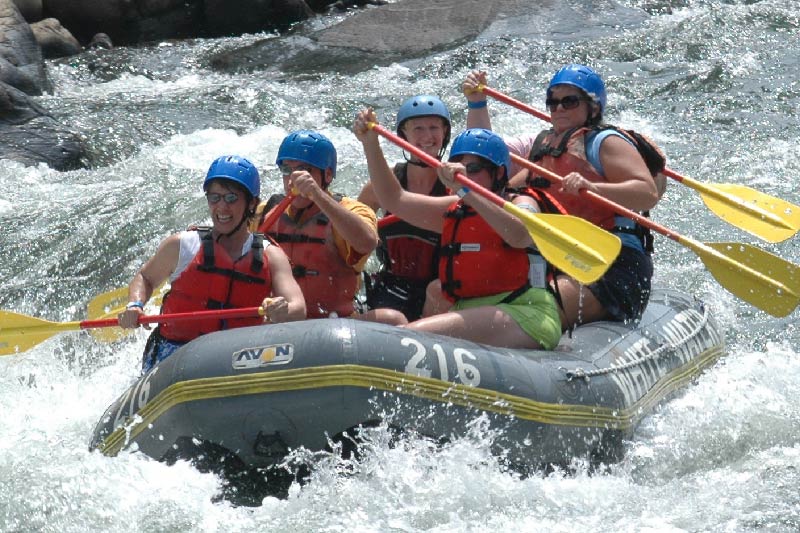 Among the most well-known rivers in Sikkim and Darjeeling is the river Teesta. The wild river Teesta provides an exhilarating adventure to the rafters with a series of rapids with changing intensity.
The raging Rangit is a branch of this river and has complex Rapids, delivering more difficult rapids to the adventurers.
Rafting in Teesta is limited to the period from October to April (wintertime). What makes this adventure enlivening is the lovely landscape covering Teesta, and the rocky terrain around boosts the river's glory.
Here, you can also enjoy activities like Paddle Rafting. When rafting here, one thing to precisely count on is the point where River Teesta merges with the River Rangit, and this area is considered a challenging spot for adventure solicitors and thrill fans.
Type of Difficulty: Grade II to IV
Best Period for Rafting: October to April
Distance Covered: Around 310 km
5. Beas River, Kullu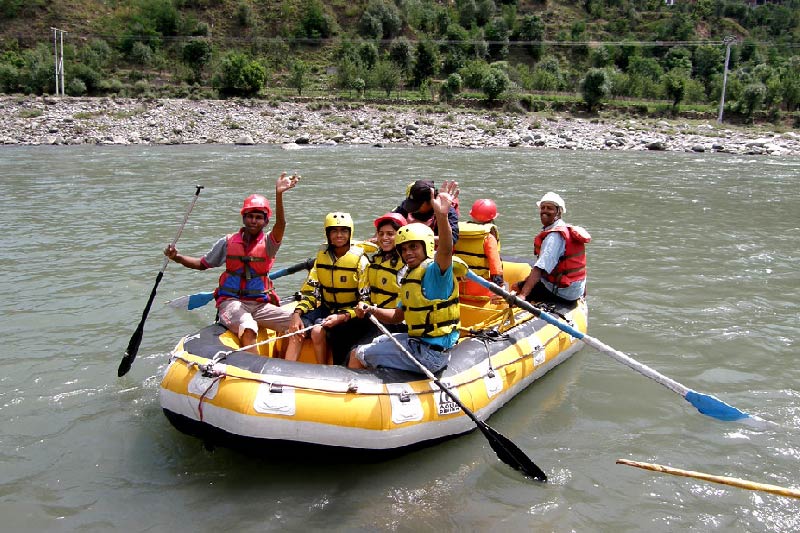 One of the top river rafting destinations in India is Kullu. Here, you can cruise on the stunning river Beas and appreciate your passion for thrill and venture.
The river provides visitors with a scenic, sometimes stimulating, and idyllic experience. In the Valley, the activity starts at Pirdi and finishes at Jhuri, covering a distance of approximately 14 km.
You will undergo from Grade I to Grade IV rapids in the river, suitable for both novices and experts. Moreover, a few rapids are powerful enough to leave you with remarkable memories.
It is a worth-visit location in Kullu for all your adventure buffs. The dramatic scenery of the river Beas and the joy of the rapids will surely make your day special. You can enjoy your love of rafting throughout the year except during the time from 15 July to 15 September.
Type of Difficulty: Grade I to Grade IV
Best Period for Rafting: March to July
Distance Covered: Around 14 km
Conclusion
So, how many locations have you covered from our list of India's top river rafting destinations? Not many, right? Well, it's time that you should pack your bags and plan your journey to any of these fantastic places for a delightful white water rafting session, and get going.