Taking a break from the corporate world once in a while is refreshing and rejuvenating. And where else is better than a beautiful and calm resort packed with fun activities and good food for a corporate outing? So, without further ado, let us check out some of the best resorts for corporate outings in Bangalore.
1. Windflower Prakruthi Resort and Spa
The Windflower Resort and Spa, Bangalore, is one of the best resorts for corporate outings you can look forward to, especially if you and your colleagues are ardent worshippers of nature. Located close to Devenahalli Airport, the serene settings and environment around the resort are enough to make you feel free and light.
The resort is a blend of all the modern facilities adorned with a touch of nature, specially created for you to feel refreshed and away from all the pressures of life. The award-winning spa of Windflower Resort and Spa is one of the best attractions here. A good spa time with your colleagues can be so relaxing and strengthen your bonds at the same time.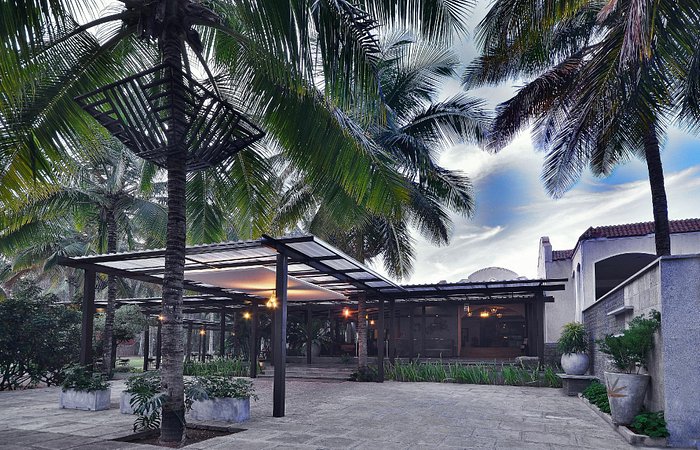 Outdoor activities like rope climbing, swimming, bicycling, etc., are also provided here, which will ensure you have the best of times here. The food and service here too are of top quality, which will never disappoint you.
Address: Windflower Prakruthi Resort & Spa, Plot No.12A, Kundana Hobli Devanahalli Taluk, Bangalore, Dist, Hegganahalli, Karnataka 562110
2. Club Cabana Resort
Located at a sweet distance from the chaos of city life and workloads, is a club, resort, and amusement park all rolled into one, the Club Cabana Resort. The resort will charm you with its greenery taking you back to the lap of nature, only to leave you with a refreshed and cheerful mind.
This all-in-one resort is one stop destination for absolute fun and good times. Be it a day of picnic, party, or serious conference Club Cabana got you covered. The amazing water world this resort offers has to be the highlight of this place. Their amusement park is going to leave you amused!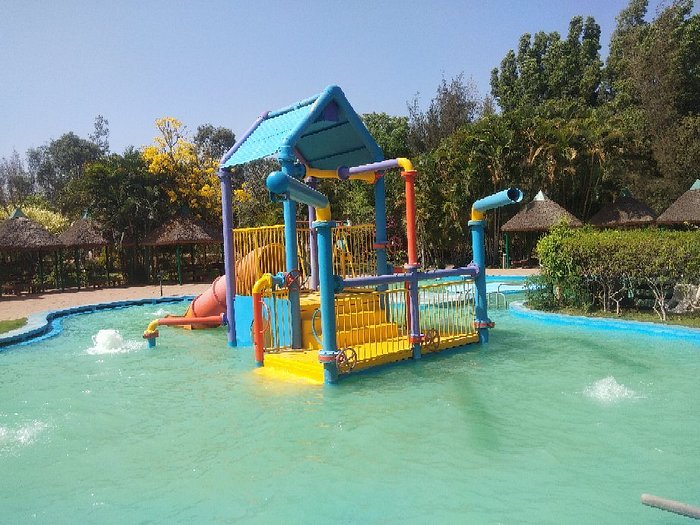 For all those sports enthusiasts in your office group, they offer a myriad of indoor and outdoor activities for them to sweat it out finally. The food and drinks Club Cabana treat you with are like cherries on top. So, head on to this beautiful world where fun meets perfection for your next corporate outing.
Address: Club Cabana Amusement Park, Sadahalli, International Airport Road, Bangalore, Karnataka -562110
3. Eagleton Golf Resort
Keeping its proud place amongst the top 5 rated golf courses in the country is the Eagleton Golf Resort. As the name suggests, this is mainly a golf course designed specifically and carefully to ensure you the most luxurious experience during your stay here.
The amazing day-out activities they have in place will stun you to the core and guarantee a fun-filled day with your fellow corporates. This world-class golf course will blow your mind with its green landscapes and multi-level designer swimming pool. Located at a distance of about 34 km from the Bangalore Palace, The Eagleton Resort has it all, ranging from table tennis and badminton to poolside volleyball.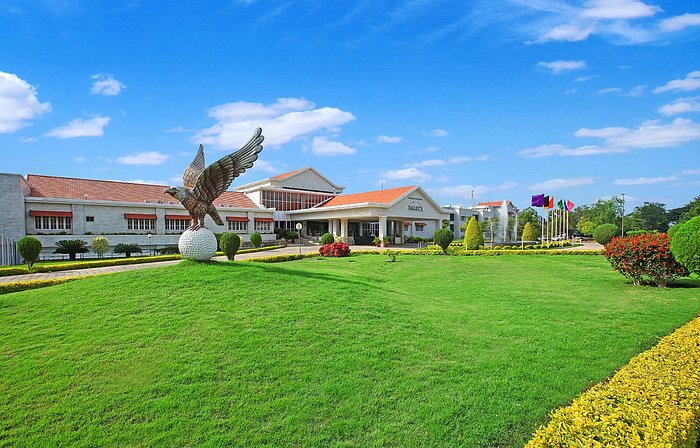 The place is perfect, be it an intensive day of competitive sports or just soaking in the sun by the pool. The kids' game room the resort offers is an added advantage that you will truly appreciate!
Address: Eagleton The Golf Resort, off Bangalore – Mysore Highway, Shyanamangala Cross, Bidadi, Mysore Rd, Bengaluru, Karnataka 562109
4. Signature Club Resort
Located again at Devanahalli, the Signature Club Resort welcomes you to its Mangalorean home-style structure, enchanting you with those good memories of home. The traditional setting of the place with long verandas and courtyards, topped with Mangalorean red tiles, is both welcoming and soothing. The resort offers an array of indoor and outdoor activities, including a world-class swimming pool and an international-class cricket pitch.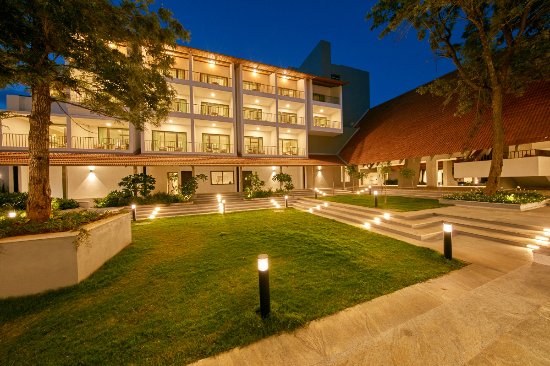 The carefully designed rooms and banquet hall are a delight to the eyes. The multi-cuisine restaurants and bars give you a lot of options to choose from and could also be customized according to your preferences. All these amenities and the ever-beautiful nature around the Signature Club Resort make it one of the best resorts in Bangalore for corporate outings, family reunions, and even candlelight dinners.
Address: Signature Club Resort, Brigade Orchards, NH 207, Near International Airport, Devanahalli, Bangalore – 562 110
5. Clarks Exotica Resort and Spa
Spreading across a vast area of 70 acres with the beautiful Nandi Hills towards its back is the Clarks Exotica Resort and Spa. As the name suggests, this exotic resort and spa will sweep you off your feet with its excellent service and world-class amenities. Spending a day at this lush green resort with your team will be enough to take your mind off things that bother you and leave you with a more spirited mind. The restaurants, cafes, and bars are promising, and you will love them.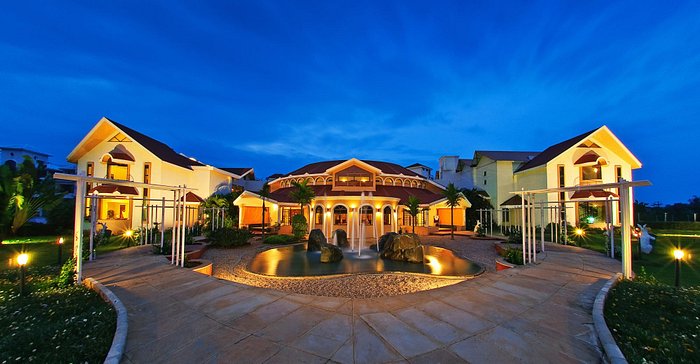 And for the health-conscious people in your group, the resort offers Ambrosia Health Café, which serves nutritious gluten-free dishes. The spa and swimming pool are the perfect spots to relax and make the best out of your day. And do not worry about the kids; the resort got you covered with their kids' special area.
Address:  Clarks Exotica Resort and Spa, Swiss Town, Hollywood Junction, Sadahalli Post, Devanahalli Road, Bengaluru 562 110
6. Angsana Oasis Spa and Resort
If you are looking for a cozy day with good food and drinks, Angsana Spa and Resort will be the perfect one. The resort takes you to a whole new world of comfort and luxury with the top-notch amenities they offer and extraordinary service.
The ancient and the modern are blended in the perfect ratio, ensuring you the time of your life. The location is easily accessible too, at a distance of 16km from the nearest airport. The spa and multi-cuisine restaurants are going to leave you yearning for more.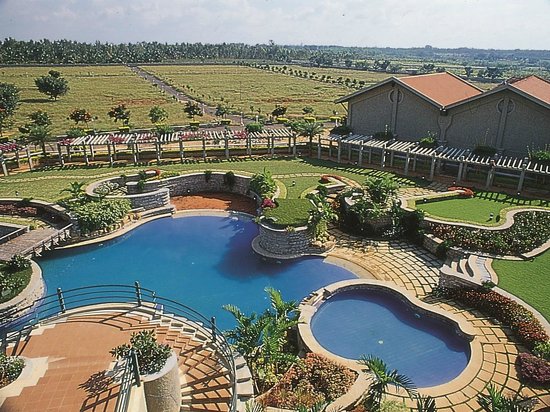 An evening by the poolside with your fellow corporates will be all that you need to de-stress and get to know the fun side of your friends. So, wait no more and start planning your next corporate outing to this enchanting beauty.
Address: Angsana Oasis Spa and Resort, Main Doddaballapur Road, Northwest County, Rajanakunte, Bangalore – 560 064
7. The Golden Palms Hotel & Spa
Dive into this beautiful Mediterranean aesthetic for a relaxing and fruitful time with your colleagues and friends. The Golden Palms Hotel and Spa is one of its kind to be seen in Bangalore, equipped with lavish rooms, numerous restaurants, a spa, and a swimming pool.
The pleasing service and elegant setting will surely make you come back here again and again. Be it an indoor lazy day with your pals or an exciting day out, Golden Palms have got you covered. Their exquisite itinerary includes outdoor activities like bicycle riding, swimming, and other sports on top of all the other indoor facilities they provide.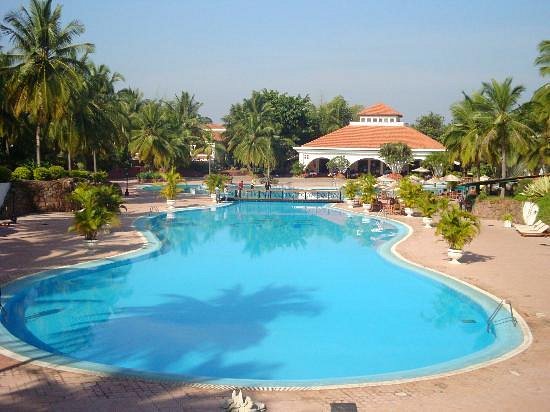 This resort, located just a few km away from the city, is the perfect getaway from the hustle and bustle of the city, all the while being close to it.
Address: Golden Palms Avenue, No.31&32, Nagarur village Dasanapura Hobli, Tumkur Main Rd, Bengaluru, Karnataka-562123.
Conclusion
Bangalore City can be hectic. Traffic and corporates could be two words that define the city perfectly. But that does not mean the city has nothing more to offer. Listed above are a few of the gems that could help you escape the stressful reality and spend some wholesome time with your colleagues. So, head on to these places that are some of the best resorts for corporate outings in Bangalore.