Golden beaches, buzzing streets, lively nights, Goa is indeed one of the if not the most happening tourist destinations of the country. With its flavourful cuisine, nightclubs, lively beach shacks, and fancy drinks it is India's most sought-after bachelor's destination.
What about Gokarna? Some of you might be even hearing the name of this beach town for the first time, let alone be confused about choosing between Gokarna or Goa. Even though it is known for its temples among the Hindu Devotees, the place is still a less known tourist destination.  With its serene beaches, this tiny temple town in Karnataka is not behind Goa in its beauty.
You can decide between Gokarna or Goa after knowing what makes the two beach towns different even though they are just a couple of miles away from each other.
About Gokarna
Gokarna is a small town beside the sea in the Indian State of Karnataka, 489 km away from its Capital city Bengaluru. You can either take a road ride of approximately 8 hr 38 min from Bangalore to reach Gokarna or else many direct train services run between the places which would take you about 14hrs.  The nearest airport to the town the Dabolim airport, Goa is however 140km away from the town and it will still take you a three and a half hours road ride to reach there.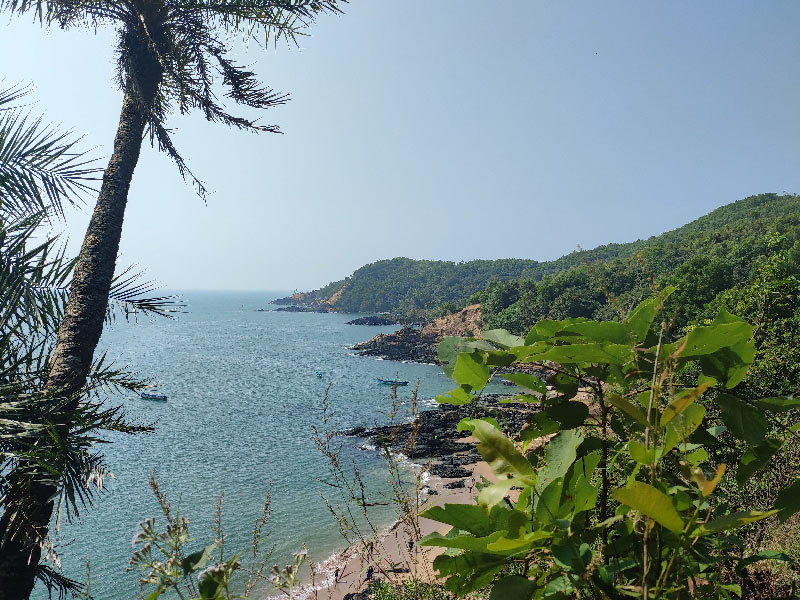 Unlike Goa which is a world-renowned tourist destination in India visited by numerous foreign and national tourists every year, Gokarna isn't that famous. When compared to Goa of which everyone knows its specialties, the details of the latter are less known to the outside world. So, before deciding whether it should be Gokarna or Goa for your next trip, let's learn some quick facts about the town.
With its pristine beaches dotted with golden sand and swaying palms Gokarna is indeed a beauty unexplored.
The town is so small with a total area of 10.9 square kilometers that one can go around its streets on foot. It is mainly known for its pilgrimage sites dotted by some ancient temples and heritage sites. The most prominent among them is the 4th century Mahabaleshwar Temple dedicated to Mahabaleshwar, who is believed to be an incarnation of Lord Shiva. The Shree Maha Ganapati Temple with a black stone idol of Lord Ganesha that is 1.3 meters high, the Bhadrakali Temple, the Tamra Gauri Temple located inside the compounds of Mahabaleshwar Temple dedicated to Goddess Parvathy are a few to name among the pilgrimage sites of the town.
What to do in Gokarna?
Just because it has many famous temples it doesn't mean that the place is just about pilgrimage. The sun-kissed beaches and the surrounding area are full of possibilities for ultimate enjoyment and leisure. So, let's just see a few activities you can enjoy in Gokarna.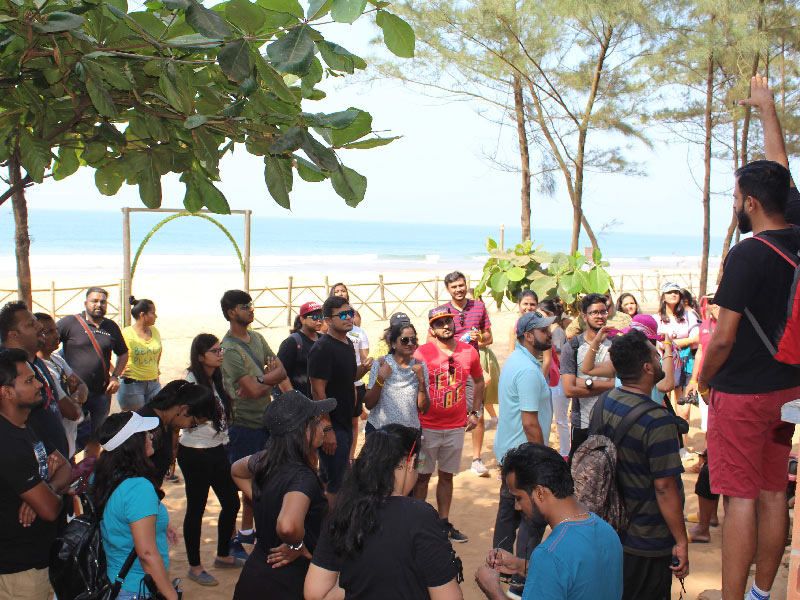 Beach Trekking
With its long non-crowded shorelines and short trekking paths leading to the beaches, the town is the best in the country for beach trekking. The main beaches in Gokarna are Gokarna Beach, Om Beach, Half-moon Beach, Nirvana Beach, Paradise Beach, Kudle Beach, Baada Beach, and Small Hell Beach.
Dolphin Spotting
Places like Om beach in the town are renowned for Dolphin spotting trips.
Water Sports
From jet skiing to surfing and scuba diving the options for adventure in Gokarna's beaches is endless. You can also take the famous banana boat ride or just do parasailing along the shore.
Night Camping
The long beaches that are free of crowds and noise gives a perfect option for a night camp under the starry sky.
Street Strolling
Whenever you visit a beach town be it Gokarna or Goa, street strolling is a must-do activity to get to know the local culture and heritage. The streets of Gokarna tell you stories from the past and are heaven for mythology lovers. The flea market near beaches can be explored during your walk to take souvenirs of the town back home.
Food
Being a seaside town, the area has a vivid cuisine of seafood, rice, and other delicacies.
Caves & Waterfalls
The famous Yana caves, Shiva caves, and Vibhuti Falls are all famous spots in the town.  Also, the nearby Mirjan Fort built by Queen Chennabhairadevi of Gersoppa in the 16th century is a must-stop-by during the visit.
Gokarna or Goa – Which should you choose?
If you have ever visited Goa before, you will find many of the above-mentioned details of Gokarna similar to Goa. Situated on the western coast of India along the Arabian sea at a distance of just 140 km from each other, the two places are indeed similar in many ways. Take the long sealine of golden sands and light blue sea for example. The tropical sea climate of both places makes them so alike in terms of topography and cuisine.  But there are significant differences as well. Let's look at those in our Gokarna or Goa comparison.
Gokarna & Goa – What's the difference?
The main difference is the number of tourists visiting both places.  Goa is a globally known destination visited by around 7-8 million national and international tourists every year. This makes it one of the most visited destinations in the country. The city is hence extremely commercialized, filled with activities and spots to attract visitors.
Even though Gokarna has seen a significant rise in the number of tourists visiting the town every year, it is still far behind goa in terms of tourists, hence is preferred by solitude lovers or families who want to enjoy a peaceful vacation on tropical beaches.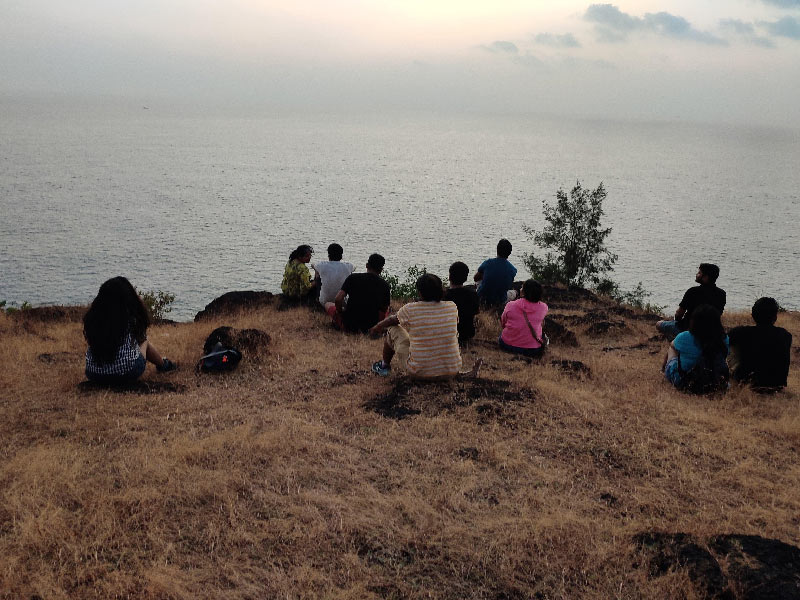 Another difference is in architecture. The streets of Goa give away a colonial vibe with their colorful houses and pathways, owing to its Portuguese influence. Whereas, the streets of Gokarna have a mystic ancient vibe, owing to its significance in the culture and the history of ancient India.
Apart from that, there are differences in the kind of entertainment and leisure activities you can find in both the places as Gokarna is not that much of a happening place like Goa with bustling nightlife and never-ending cocktail parties. Also, Gokarna has limited accommodation options compared to Goa as there is less number of tourists visiting the place.
To Summarize
So, Gokarna or Goa? Which should be your next holiday destination?
Well, let's just say it depends on your mood and what you want out of your holiday. If it's that you need to chill with your friends and enjoy a few days partying and sunbathing enjoying some nice liquor, there is indeed a no better option in the country other than Goa.
But if you are an extreme beach lover and a lonely wanderer who just want to be away from the hustle-bustle, enjoying the sun & sand, Gokarna is the place for you.
Tell us in the comment box below which one is your choice and why.
Written by: Minsia S